Hibbleton Film Series presents: A Tour of American Cinema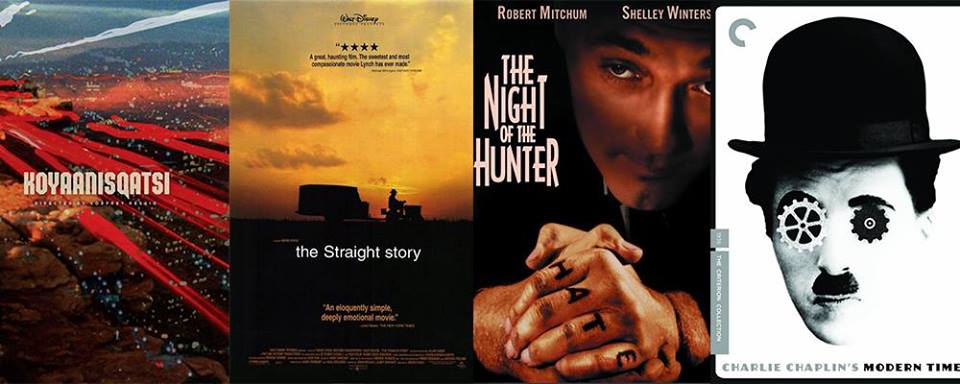 Every Monday night this summer, award-winning filmmaker Steve Elkins will present a different American film. All screenings begin at 8pm and are FREE. A discussion will follow each screening. Here's the lineup so far:
June 6: "KOYAANISQATSI" (Godfrey Reggio, 1983). The debut film of a former New Mexico monk whose preparation for filmmaking was a life of silence, fasting and prayer, co-founding an organization to aid juveniles in Santa Fe street gangs, and working with the ACLU to combat governmental invasions of privacy and the use of technology to control behavior. Using no words, plot, or characters ("not for lack of love of language…but because our language no longer describes the world in which we live"), Koyaanisqatsi is a visionary experience that changed how film could be used to illuminate the invisible interconnectedness of the globe prior to the internet. Named after the Hopi word for "a state of life that calls for another way of living," the film is the first part of a trilogy which chronicles the global transformation of life from prehistoric geological time to the arrival of digital technologies dedicated to surveilling people, engaging them in meaningless communication, selling them an endless supply of products, distracting them with spectacles, and facilitating their violence against one another. "These films have never been about the effect of technology on people," says the director, "it's that everyone…exists within the host of technology. It's not that we use technology, we live technology."
June 13: "THE STRAIGHT STORY" (David Lynch, 1999)
Based on the true story of Alvin Straight who, unable to get a drivers license due to poor eyesight at the age of 73, drove his 30-year old lawnmower 240 miles across Iowa and Wisconsin (a six week journey at 5 miles per hour) to make amends with his estranged brother who had just suffered a stroke. A few years later, David Lynch (director of "Eraserhead," "Blue Velvet," and "Twin Peaks"), made this film about the journey on the exact route Straight traveled. One of the least known (and very best) films Lynch made, later released by Disney, it features the final (Oscar nominated) performance of Richard Farnsworth, who was dying of bone cancer during filming, but took the role out of admiration for the quiet compassion of Alvin Straight.
June 20: "THE NIGHT OF THE HUNTER" (Charles Laughton, 1955)
Incredibly, the only film the great actor Charles Laughton ever directed, "The Night Of The Hunter" poetically depicts the changing consciousness of two West Virginia children as they are expelled from the Eden of their childhood into a world of uniquely American dualisms, in which the forces of Good include a marriage of religion and guns. A bizarre film which seems miraculously unaware of how sophisticatedly hilarious it is, how drool-inducingly gorgeous it looks, or how deeply it captures the tortured consciousness of a particular American mythos. Written by James Agee, author of "Let Us Now Praise Famous Men" (1941), whose experiences living amongst impoverished Alabama sharecroppers during the Great Depression inspired an opera from Aaron Copland and even the recent television show "The Wire."
June 27: "MODERN TIMES" (Charlie Chaplin, 1936)
"Modern Times" was partially inspired by a conversation between Charlie Chaplin and Gandhi during Chaplin's 16-month world tour of his 1931 film "City Lights," which took him as far as Sri Lanka, China, and Bali; a journey which revealed Chaplin's popularity in third world slums as much as in the homes of the global elite who hosted him: Winston Churchill, Albert Einstein, the British Prime Minister, and Japan's president (who was assassinated while Chaplin was visiting…Chaplin later learned that he had also been a target). Chaplin asked Gandhi: "I should like to know why you're opposed to machinery. After all, it's the natural outcome of man's genius and is part of his evolutionary progress. It is here to free him from the bondage of slavery, to help him to leisure and a higher culture. I grant that machinery with only the consideration of profit has thrown men out of work and created a great deal of misery, but to use it as a service to humanity, that consideration transcending everything else, should be a help and benefit to mankind." Gandhi countered, "I wish to make our people independent of industry, which weapon the Western world holds over us. When they discover that there is no profit in exploiting India, they will leave it to us. Therefore, we must be independent of your industry." Chaplin began studying global finance and socioeconomics, and returned to Hollywood with a new social consciousness that "the different countries I visited, embroiled in unrest, seem brewing a new epoch – theistic, sociological, and economical – unprecedented in the history of civilization." Modern Times was his response.
July 11: "HARLAN COUNTY USA" (Barbara Kopple, 1976)
Consistently cited as one of the greatest documentaries ever made, Barbara Kopple's "Harlan County USA" (filmed while Kopple was under threat of death by US coal companies, who had placed a hit on her) captures the frontlines of the Harlan County War in southeast Kentucky, which began when U.S. coal companies expanded national dependency on their fuel by denying coal miners livable wages, survivable conditions, or the right to protest (so they could sell below cost). Enforced by the occupation of state and federal troops, Kentucky's coal miners saw no choice but to begin an armed struggle that pitted grenades, car bombs and pistols against machine guns and armed company "strike breakers." Barbara Kopple focuses on the courageous women fighting on the frontlines with billyclubs and pistols in their bras, and the heartbreaking folk music that emerged from their communities to place the viewer in the center of a struggle that began in the 1930s and continues in new forms into the present day.
July 18: "ANNIE HALL" (Woody Allen, 1977)
Named the funniest screenplay of all time by the Writers Guild of America, and the second greatest romantic comedy by the American Film Institute, "Annie Hall" is "just about everyone's favorite Woody Allen movie" (Roger Ebert). It was also a major turning point for Allen, a conscious decision to abandon the safety of mainstream comedy and conventional narrative, to "produce a film of deeper meaning" that proved romance films could be pushed far beyond predictable cliches into something deeply intelligent and groundbreaking. Inspired by Federico Fellini's "8½," the film explores existential questions, Jewish identity, the complexities of sex, and Allen's adoration of New York City in a way that embraces everyones' inner and outer awkwardness. Winner of the 1977 Oscars for Best Picture, Best Director, Best Screenplay, and Best Actress (Diane Keaton).
July 25: "RETURN TO OZ" (Walter Murch, 1985)
William S. Burroughs will rant and rave and shoot guns around his Kansas home as an introduction (via celluloid) to Walt Disney's supremely fucked up (i.e. amazing) "Return To Oz," in which Dorothy receives electro-shock therapy, befriends a flying couch with a talking taxidermy head, is imprisoned by the Wicked Witch of the North and her hallway of screaming heads, faces the demon army of the Nome King, and generally finds Oz in ruins under the control of characters that could have been cast in a Hellraiser film. Written and directed by Walter Murch, the legendary editor and sound designer of "Apocalypse Now" and "The Godfather" trilogy (not to mention co-writer of George Lucas's pre-Star Wars cult classic "THX-1138"), "Return To Oz" remains the most bizarre thing ever released by Disney, which terrified an entire generation of children, and is far more accurate to the actual content of the fourteen Oz books written by L. Frank Baum between 1900 and 1920 than the famous Judy Garland film of 1939.
August 1: "WISE BLOOD" (John Huston, 1979)
One of America's most legendary directors, John Huston, made countless classics ranging from "The Maltese Falcon" (1941) to "Annie" (1982), but lesser known is his magnificent adaptation of Flannery' O'Connor's novel "Wise Blood," about the crisscrossing paths of a guy in a gorilla suit, a mummified dwarf, and a prophet starting the "Church Without Christ." O'Connor's surreal novels about her home state of Georgia were inspired by the sacramental Thomist notion that the created world is charged with God. A kind of literary precursor to David Lynch, she wrote grotesque allegories about deceptively backward Southern characters (usually fundamentalist Protestants), who undergo transformations of character through ludicrous behavior that, to her thinking, brought them closer to the Catholic mind.
August 8: "HAROLD AND MAUDE" (Hal Ashby, 1971).
Set in the San Francisco Bay Area. With a poster this good, who needs any further description. Score by Yusef Islam (formerly known as Cat Stevens).
August 15: "STANDARD OPERATING PROCEDURE" (Errol Morris, 2008).
A landmark documentary on official U.S. terrorism in Muslim countries. When photographs were leaked in 2004 revealing U.S. forces were engaged in a widespread standardized practice of physically and sexually abusing Muslims in Afghanistan and Iraq, including sodomy, torture, raping of children, stoning, live abortions, forcing Muslim women to parade nude smeared in feces, dragging them around on dog leashes, riding them like wild animals, and murder, the Bush administration attempted to portray the abuses as isolated incidents, not indicative of general U.S. policy. This was proven false after multiple investigations by international humanitarian organizations, as well as the subsequent release of the "Torture Memos," in which the U.S. government authorized such treatment of Muslims even before the 2003 invasion of Iraq. Despite global condemnation of these acts as state-sponsored crimes against humanity, vice-president Dick Cheney and the U.S. Department of Justice justified these practices by arguing that international humanitarian laws, such as the Geneva Conventions, do not apply to American interrogators overseas. In "Standard Operating Procedure," Errol Morris amazingly manages to interview almost all of the U.S. soldiers and Iraqi prisoners involved in the most notorious publicized account of such atrocities, Abu Ghraib, to uncover how this can become totally normal behavior committed by people who consider themselves "the good guys," and ask: does this encourage terrorism against us in return?
August 22: "THE LAST PICTURE SHOW" (Peter Bogdanovich, 1971)
Possibly the most praised American film between "Gone With The Wind" and "The Godfather," earning 8 Oscar nominations and declared "the most impressive work by a young American director since Citizen Kane," "The Last Picture Show" is a flagship film of the 1970s revitalization of American cinema that began when a B-movie actor named Jack Nicholson co-wrote the script for a silly film about invented rock band The Monkees called "Head" (1968), co-starring Frank Zappa and Dennis Hopper, which in turn led to the production of Hopper's legendary countercultural coup "Easy Rider" (1969). Inspired as much by the French New Wave as America's dharma bums, Hopper announced in an unpublished 1965 manifesto: "What we need are good old American—and that's not to be confused with European—Art Films…The whole damn country's one big real place to utilize and film, and God's a great gaffer!"
A new generation of filmmakers hell-bent on sending traditional Hollywood up in flames emerged to ask: "What were movies now, what could they be? Where was America going, where should it go?" Director Peter Bogdanovich thought it most appropriate that the dying art form of American cinema should be used to visualize a dying town, a dying era, and a dying way of life. According to Bogdanovich: "I saw [The Last Picture Show] as a Texas version of Orson Welles' "The Magnificent Ambersons" (1942), which was about the end of a way of life caused by the coming of the automobile. This was about the end of a way of life caused by the coming of television." Following the decade in which veteran American directors like Ford, Hawks, Curtiz, Borzage, Anthony Mann, Capra, Milestone, Stevens, Walsh, Wyler, Siodmak, and Jacques Tourneur made their final features, BBS Productions (collaborating with Jack Nicholson) funded seven radical new productions, including "The Last Picture Show," which embodied the spirit of a New Hollywood.
September 5: "THE NEW WORLD" (Terrence Malick, 2005)
Terrence Malick's "The New World" is a transcendentalist vision made in the style of his films "The Tree Of Life" (2011) and "The Thin Red Line" (1998). Malick revives the Algonquin language and the Powhatan Native Americans' way of life in poetic detail to depict their first encounters with settlers in America not so much as a historical episode, but as a metaphysical reflection on humankind's place in the universe, and the extent to which nature is an external manifestation of our inner processes of transformation.
September 12: William Greaves' "SYMBIOPSYCHOTAXIPLASM" (1968) / REMEMBERING PAUL ROBESON" / and Les Blank's "DRY WOOD" (1973) and "SWORN TO THE DRUM" (1995). Tonight's special presentation will be a mosaic of short documentaries made by, or about, African Americans including…
1.) "DRY WOOD": a portrait of black (French-speaking) Creole life in the Louisiana Delta, and their development of Zydeco music.
2.) "SWORN TO THE DRUM": Francisco Aguabella's exploration of the Cuban religions of Santeria, Abacúa and Yezá, hybrids of Catholicism and various African spiritual beliefs emphasizing rhythm (especially rumba rhythms) as expressions of divinity among us.
3.) "REMEMBERING PAUL ROBESON": The son of an escaped slave, Robeson managed to become a top-billed movie star during the time of Jim Crow America, as well as an athlete, scholar, social activist, and renowned baritone, who literally stopped a war in Europe by singing on a battlefield.
4.) An introduction to the work of WILLIAM GREAVES, who emerged from the rich traditions of early 20th century Harlem theater into The Actor's Studio of 1948 (alongside Marlon Brando), but had to emigrate to Canada to play roles that weren't stereotyped due to racism prevalent throughout American culture at the time. Greaves went on to become of pioneer of African-American filmmaking, directing over 200 documentaries and returned to The United States during the Civil Rights Movement to participate in the ongoing discourse regarding African-Americans and their place in society.
September 19: An Introduction To The Early American Cinema of D.W. Griffith (1908 – 1931) and Pál Fejős (1927 – 1930)
Known as the "Inventor of Hollywood", D.W. Griffith pioneered modern filmmaking techniques through such technically groundbreaking films as The Birth of a Nation (1915) and Broken Blossoms (1919). Chaplin called Griffith "The Teacher Of Us All," and according to Orsen Welles, "No town, no industry, no profession, no art form owes so much to a single man." Griffith was the first person to make feature films, the first to use close-ups, and generally seems to have been the first to understand how camera placement and lighting created an expressive language that owed more to music than to traditional narrative.
Pál Fejős, one of the greatest experimental filmmakers of the silent era, became a director after serving as a medical orderly for the Imperial Austrian Army on the Italian front lines during World War I, where he also managed a theatre that performed for troops. He arrived in Hollywood by hitchhiking to Pasadena, stealing fruit from orange orchards, and convincing one of his drivers to finance his first film. Fejős always saw film as closer to painting than to theatre and was more concerned about issues of light and shadow than story. By the Great Depression, he was working with million dollar budgets and the largest crane ever made. He then dropped filmmaking altogether to become one of the greatest pioneers in the history of anthropology and discovered 18 lost ancient Incan cities in Peru.
September 26: "THE SHAWSHANK REDEMPTION" (Frank Darabont, 1994). Set in 1940s Maine, one of the best American films of the 90s, for the birds within each of us that can't be caged because their feathers are just too bright. Our curator Steve Elkins will share some stories about his experiences with Shawshank's producer, Nikki Marvin, and the effect she had on his own work.