Gone Fishing: Artwork by Priscilla Moreno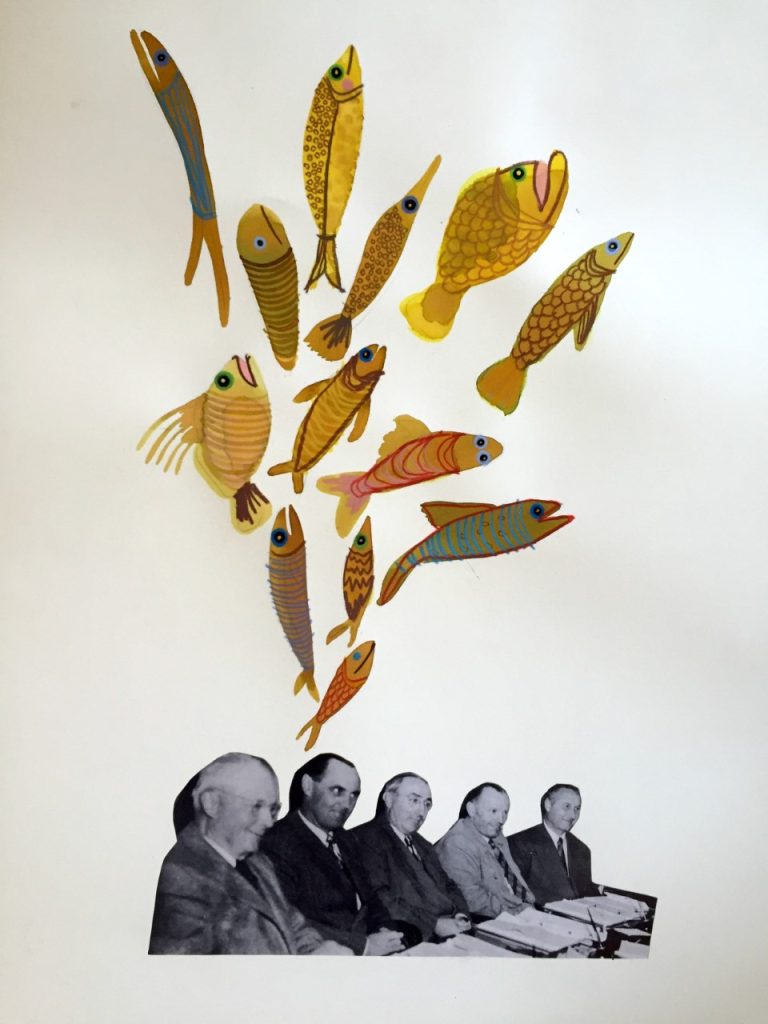 You are invited to the next art exhibit at Hibbleton Gallery entitled "Gone Fishing: Artwork by Priscilla Moreno." The opening reception is Friday, October 7th from 6-10pm during the Downtown Fullerton Art Walk. As always, this event is FREE and open to the public.
Artist statement:
I was lucky to get my hands on an old Fullerton High School yearbook from 1951. The old yearbook smell, and the black-and-white images of the The Pleiades (class of 1951) made me want to take everyone out of their class portraits, and out of the fifties into the present. I fell in love with the old photos of people in "old fullerton". If their photos were found, then I think they were all meant to be brought out to the modern times and celebrated. I'd also got into ichthyology recently, and decided to combine both. So I'd create small pieces of all of them together. I've been drawing fish for a while now and its one of my favorite things. I have also included pieces of faces I have made over the years. All the faces I make have been either self portraits, people I know, or people I wish I knew. Most of these pieces have been successfully created with the help of Brenton Wood, Champagne, Fullerton vibes and all things that are creepy.
About Hibbleton Gallery:
We are a gallery focusing on works from the latest underground artists. We are dedicated to art that provokes thought and initiates discourse, whether it is considered subculture, outsider, graffiti, lowbrow, or street. We also like to partner with non-profit organizations and local groups focusing on social justice, education, and making the world a little better through the arts.
About the Magoski Arts Colony:
The Magoski Arts Colony is a multi-venue art space on the edge of Downtown Fullerton.
About the Downtown Fullerton Art Walk:
The Downtown Fullerton Art Walk happens the first Friday of every month. It is a coalition of galleries and businesses whose goal is to promote the arts and build community.