An Introduction to the Cinema of Serbia and Macedonia
Every Monday night in November, Hibbleton Gallery film series presents films from Serbia and Macedonia, curated by award-winning filmmaker Steve Elkins. All screenings begin at 8pm and are free and open to the public. A discussion will follow each screening.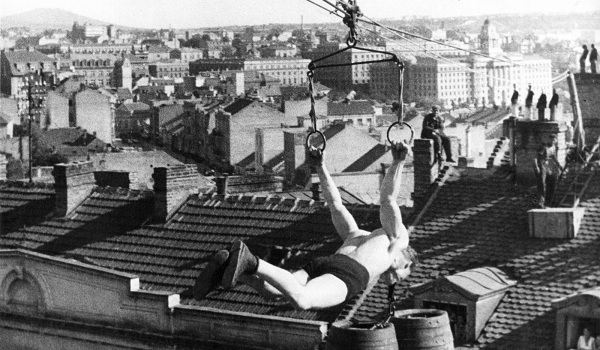 November 7: "INNOCENCE UNPROTECTED" (1942 / 1968): We begin our introduction to the cinema of former Yugoslavia with a film that is truly unlike anything else ever made. The first Serbian-language film was miraculously directed in secret by a Houdini-style escape artist (Dragoljub Aleksić) while breaking curfew and evading Nazi soldiers during the Occupation, then buried for decades in a field surrounded by asbestos. A quarter-century later, Yugoslavia's most avant-garde filmmaker (Dušan Makavejev) had the hilariously awful film dug up, tracked down the people who made it, and made this brilliant mash-up of the original film (with the negatives now partially painted over by Makavejev's own hand), unbelievable memories shared by the people who made it, cartoons, Belgrade newsreel footage and lots of absurdist surprises, resulting in a nearly indescribable particle collider of a film that looks back at his country's tumultuous history and the curious fictions that have to be reinforced to establish what we call "national identity."
November 14: WR: MYSTERIES OF THE ORGANISM (1971): What does the energy harnessed through orgasm have to do with the state of Communist Yugoslavia circa 1971? What does this have to do with our current presidential election in the U.S.? Why did Freud's first assistant physician (Wilhelm Reich) shoot guns at Food and Drug Administration agents from his lawn (and what are in his mysterious orgone boxes anyway)? How is Andy Warhol Superstar transvestite Jackie Curtis tied into this? Why is Tuli Kupferberg of New York rock band The Fugs running around Lincoln Center with a machine gun? Will a repressed Bolshoi ice skater ruin everything? The answers to these questions will be intimately intertwined in Dušan Makavejev's landmark film, which somehow combines the aesthetics of Disney cartoons, Gestalt psychology, Soviet propaganda films, and French surrealism into a meditation on the relationship between sexual fantasies and political fantasies which was banned upon its release and forced Makavejev into exile from his own country.
November 21: "BEFORE THE RAIN" (1994): The first film made in the newly independent Republic of Macedonia, directed by Skopje native Milcho Manchevski in the midst of the genocidal ethnic cleansing waged by Orthodox Christians against Muslims (resulting in the deaths of millions), crosscuts the stories of an Orthodox monk undertaking the vow of silence, a British photo agent and a native Macedonian in unexpected ways to unravel a riddle that makes an appearance multiple times in the film: "Time never dies, the circle is not round."
November 28: "MAN IS NOT A BIRD" (1965): Dušan Makavejev's stunning debut feature, shot in the surreal mining town of Bor near the border of Bulgaria, is a radical exploration of connections between sex, hypnosis, Beethoven and our political convictions; investigating the extent to which our idealist representations of ourselves become rooted in the body, leading people to choose their own "unfreedom" and surrender themselves to the hypnotic effect of charismatic leaders. We'll also take a brief look at the groundbreaking films of Yugoslavia's "Black Wave" movement of which Makavejev was the unintentional figurehead, and Makavejev's transgressive, taboo-shattering "Sweet Movie" (1974) which follows out the idea that the way to assess the state of the world is to find out how it tastes.